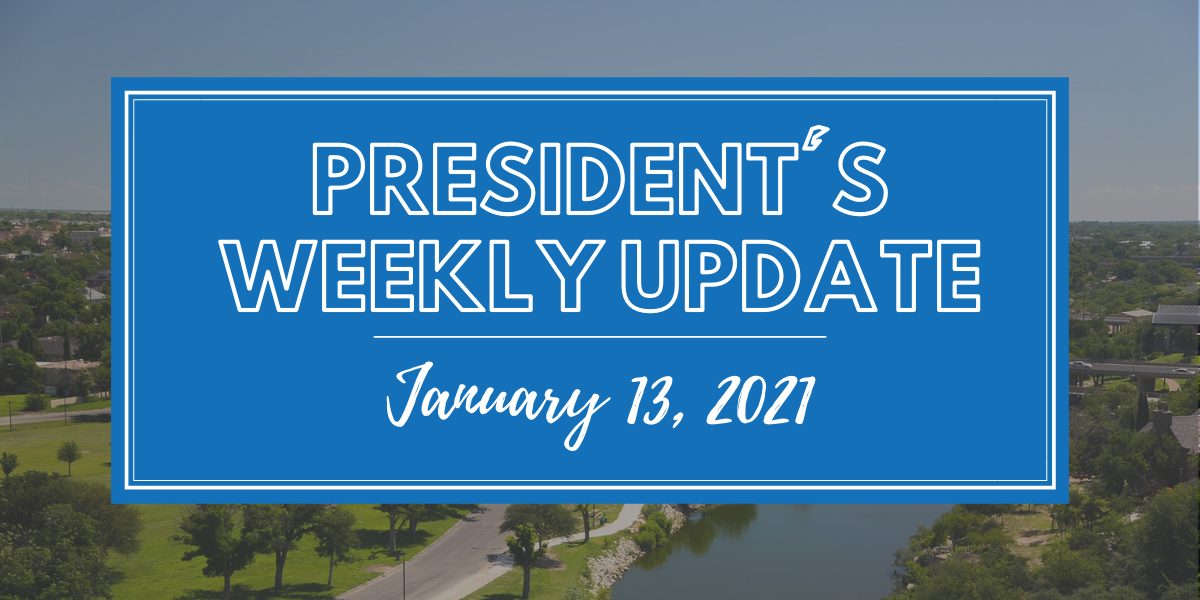 President's Weekly Update: January 13
Members of the San Angelo Chamber of Commerce:
I hope you are having a great week. We continue to lead the region in San Angelo. The roll out of the COVID-19 vaccines has begun and our community is leading the way in term of the dispensing of these critical vaccinations. We have established a system and an infrastructure that will allow our community to vaccinate our folks quickly and effectively. The community is working hard to make sure that the flow of vaccinations into San Angelo is a large as possible. Our active cases and hospitalizations continue to be amongst the lowest in West Texas. Let's continue to pull together and to follow all rules and CDC guidance.
We are very grateful to our city leadership and to the professionals at Shannon Medical Center who have once again shown their competence and commitment in the face of unprecedented challenges. Every day that passes is another day closer to the end of the pandemic. We will surely get through this together.
In 2021 we are continuing to see the economic trends continue to point in a very positive direction. We are seeing an upsurge of interest in alternative energy projects and the construction of our new multi-modal rail port is moving ahead briskly. The pipeline of new economic development projects in agribusiness, manufacturing and logistics is large and growing. This year is going to be a great year for San Angelo.
We are pleased to announce our transition to our new CRM software is complete. We will begin rolling out a whole new range of services to our membership. We're proud to launch the San Angelo Chamber of Commerce Info Hub! The Info Hub is just one of the many great new changes and services available to our members with our new GrowthZone software.
The Info Hub will be your landing page for all things Chamber - membership and contact management, billing and finance, event registration, advertising, and so much more! Be on the lookout for an invitation email in your inbox this afternoon… it will contain information on how to get started using this fantastic set of tools and services. We are always here to assist through this process so please reach out should you need any support!
We are kicking off the new year with a full calendar of events and services to our community, all conducted in full compliance with CDC guidelines and in consistency with our local rules and regulations. This month's luncheon is about a very important topic to all our membership - housing. Due to the local regulations, we are capacity limited for this event. We only have a few slots left so register online today by clicking here.
We encourage everyone to visit our brand new and improved website, www.sanangelo.org for details often as we are continually updating our calendar with new information.
Stay safe and keep well. We deeply appreciate you all.
Walt Koenig
President and CEO
San Angelo Chamber of Commerce
Personal Cell: (321) 474-1332