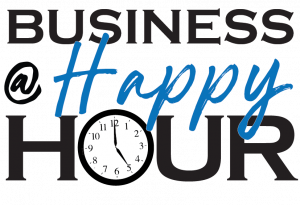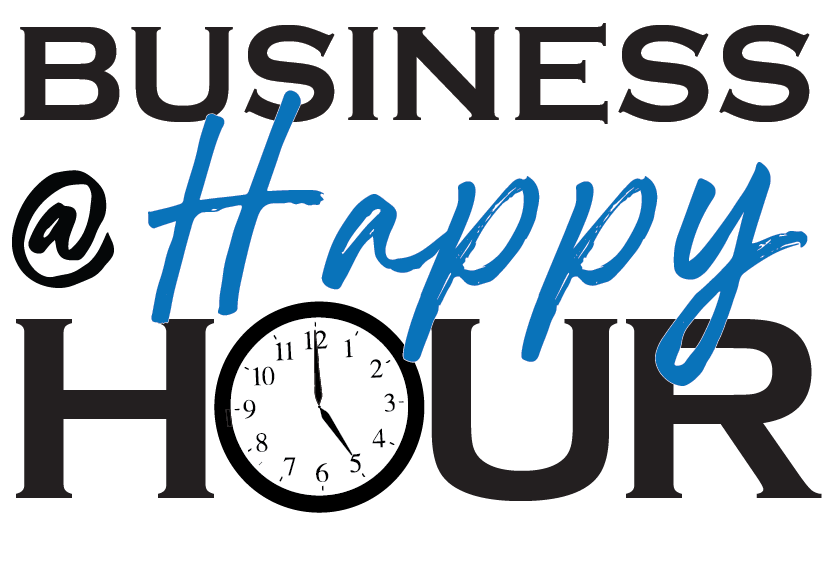 What is Business @ Happy Hour?
Business @ Happy Hour (B@HH) is a monthly networking event designed to foster connections among local businesses and professionals. It offers an informal platform where attendees can engage, network, and exchange ideas in a casual and inviting atmosphere. Join us for an opportunity to expand your network, build valuable connections, and explore potential collaborations—all while enjoying a relaxed and social setting.
Business @ Happy Hour is typically held on the fourth Tuesday of each month, February through November from 5:00 pm to 6:30 pm.
2024 Business @ Happy Hour Dates
February 27, 2024
March 26, 2024
April 23, 2024
May 28, 2024
June 25, 2024
July 23, 2024
August 27, 2024
September 24, 2024
October 22, 2024
November 19, 2024
Hosting Business @ Happy Hour
Interested in hosting a Business @ Happy Hour? Simply complete and submit the Host Request Form located at the bottom of the screen.
About: As a host, you'll have the unique opportunity to showcase your business or venue while providing a casual and inviting setting for networking among local professionals. Hosting a B@HH is a fantastic way to gain visibility, connect with the community, and create lasting business relationships.
Cost: $500 plus the cost of your food and beverages
Scheduling: B@HH hosts are confirmed for the entire year during November and dates are allocated on a first-come, first-served basis. Our events team will secure dates for the upcoming year and process requests in the order they are received.
Benefits:
BEFORE THE EVENT
Website Visibility: Company logo displayed on the Chamber website homepage (5,000+ monthly visitors) and event webpage
Chamber Communications: Company Logo featured in upcoming event information published in Chamber e-newsletters and dedicated event e-communications (sent to 2,000+ recipients)
Social Media Promotions: Recognized and tagged on Chamber social media accounts to generate awareness for the upcoming event (9,800+ combined followers)
DURING THE EVENT
Increased Visibility: Direct showcasing of facilities or services to 75+ attendees, attracting new customers or clients
Expanded Networking Opportunities: Connect directly with attendees, fostering new partnerships, collaborations, or business relationships
Exclusive Promotional Opportunity: Distribute promotional materials and deliver a targeted  2–3-minute promotional message directly to event attendees
Attendee Contacts: Host will have access to all attendee business cards collected during the event
AFTER THE EVENT
Social Media Highlights: Post event featured coverage with recognition and tags on Chamber social media accounts, showcasing event moments and participant highlights (9,800+ combined followers)
Host Guidelines:
Please note the following guidelines when considering hosting a B@HH:
Facility to accommodate a minimum of 70 people (indoor or outdoor depending on the season) and provide sufficient parking
Provide catering-quality hors d'oeuvres and refreshments including beer & wine for a minimum of 60 people; water must be available
Provide at least 1 door prize
Provide a table for registration
The Chamber must be notified in advance for special requests such as performances, speakers, and other items
Cancellation Policy: 90 days advance notice required
Cost: $500 (must be paid in full within 30 days of invoice date)
Host must be up to date on membership dues and sponsorship fees before the event occurs
The host must use the Chamber's B@HH logo on any graphics created to promote the event
Optional Ideas:
Music: Consider including background music; it can energize the room and set the tone for your event. Live music (as background music) can be a great choice too.
Have hors d'oeuvres and refreshments provided by Chamber member food and beverage purveyors. For a full list of Chamber member businesses, please visit members.sanangelo.org/member-directory.
Decorate the venue in some way to create a fun, warm, party atmosphere! Remember, this is your chance to showcase your business to the local community - have fun, be creative and maximize your exposure with your mixer!
The success of your B@HH will largely depend on the promotion you do for the event. While the Chamber helps promote the event, we find that mixers have a larger attendance when the hosts do their own promotion as well.
Request to Host Business @ Happy Hour
Please click the button below to request to host B@HH. A member of the Chamber team will follow up with you to review your submission!