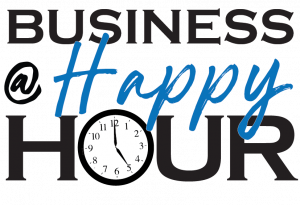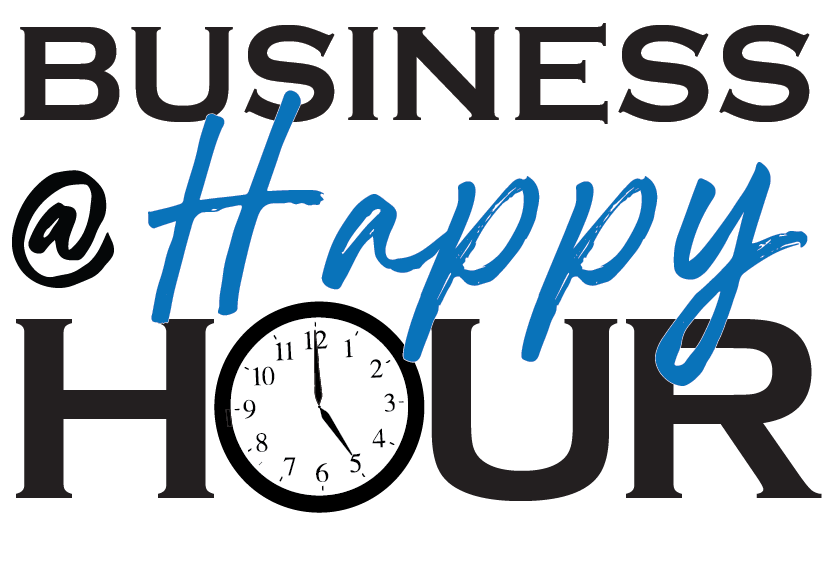 What is Business @ Happy Hour?
Business @ Happy Hour (B@HH) is typically held on the fourth Tuesday of each month, February through November from 5:00 pm to 6:30 pm. Free to attend, this is a fun and relaxing environment for members and community leaders to get together to network. Be sure to bring plenty of business cards!
2022 Business @ Happy Hour Dates
March 29, 2022
Hosting Business @ Happy Hour
About: Hosting a B@HH is a great opportunity to promote your business, gain exposure and provide a fun environment for the community to come out and network, make new friends and learn about our local business community.
Cost: $475
Please note the following guidelines and suggestions when considering hosting a B@HH.
Scheduling:
B@HH is scheduled on a first-come, first-serve basis. The Events Director will secure dates for the upcoming year and will process applications in the order they are received. Be sure to submit your application in a timely manner as there is limited space available. The Chamber does not guarantee first choice of date selected.
Benefits:
BEFORE THE EVENT
Company logo displayed on luncheon information published in Chamber e-newsletters.
Company logo prominently displayed on Chamber homepage rotating banner and on events page that include click through links that leads to host's website or social media.
Company name prominent in all media advertising.
Company logo included in dedicated email blasts (distributed to over 1,100 recipients).
Recognition on Chamber social media accounts and sponsors are tagged in content featuring event (Facebook: 4,700+ followers, Twitter: 1,200+ followers, 1,100+ Instagram followers and growing following on LinkedIn).
Company recognized on event submitted to various community calendars across the web.
DURING THE EVENT
Facebook Live video during the event, featuring your business and services.
Host will have the opportunity to distribute promotional materials at event.
Host will be given time in the script to address attendees during the welcome portion of the program.
Chamber will provide host with all of the attendee business cards that are collected at the event.
Average attendance of 50-75 guests.
AFTER THE EVENT
Post-event Recognition on Chamber Social media accounts and sponsors are tagged in content featuring event (Facebook: 4,700+ followers, Twitter: 1,200+ followers, 1,100+ Instagram followers and growing following on LinkedIn).
Host Guidelines:
Facility to accommodate a minimum of 60 people (indoor or outdoor depending on the season).
Provide catering-quality hors d'oeuvres and refreshments (including alcoholic beverages) for a minimum of 60 people. We do have a beverage sponsor.
This is a donation and without them the cost falls on the host. Although the keg is sponsored, you are responsible for picking up your keg as well as any refreshments you are planning to serve. Water will need to be available.
Sufficient parking.
Provide at least 1 door prize.
Provide a table for registration.
The Chamber must be notified in advance for special requests such as performances, speakers, and other items.
Cancellation Policy: 120 days advance notice required.
Cost: $475 (must be paid 30 days in advance of mixer)
Optional Ideas:
Music: Consider including background music. It can energize the room and set the tone for your event. Live music (as background music) can be a great choice too.
Have hors d'oeuvres and refreshments provided by Chamber member food and beverage purveyors. For a full list of Chamber member businesses, please visit members.sanangelo.org/member-directory.
Decorate the venue in some way to create a fun, warm, party atmosphere! Remember, this is your chance to showcase your business to the local community – have fun, be creative and maximize your exposure with your mixer!
The success of your B@HH will largely depend on the promotion you do for the event. While the Chamber helps promote the event, we find that mixers have a larger attendance when the hosts do their own promotion as well.
Request to Host Business @ Happy Hour
Please click the button below to fill out the form to request to host B@HH. A member of the Chamber team will follow up with you to review your submission!