YPSA was founded in 2009, and in 2012 developed a partnership with the San Angelo Chamber of Commerce. In 2023, YPSA merged with the Chamber of Commerce to become the 'San Angelo Chamber of Commerce Young Professionals'.
The merger between the Young Professionals of San Angelo and the Chamber of Commerce is driven by the goal of enhancing member benefits, fostering economic growth, and creating a robust network that supports professionals and contributes to the prosperity of San Angelo.
What are the benefits of joining the Young Professionals?
Young Professionals provides its members with opportunities to develop socially, professionally, and civically. In this day and age, young professionals have more options than ever about where they decide to work. The mission of Young Professionals is to make San Angelo an attractive place for new businesses to start, more graduates to stay, and young professionals to grow.
What are the requirements of joining the Young Professionals?
Young Professionals is geared towards individuals under the age of 40 who are looking to network with other like-minded people. To remain a member in good standing, members are asked attend a minimum of four functions per year. These functions include events like meetings, mixers, volunteer opportunities, and special events.
Join the Young Professionals!
Annual membership is $50 and covers all events for the entire year. Interested in joining? We would love to have you!
Someone will be in contact within 2-3 business days after you complete the form.
Contact Jesenia Rodriguez at Jesenia@sanangelo.org for more information.
Follow us on Facebook and Instagram for the most up-to-date info!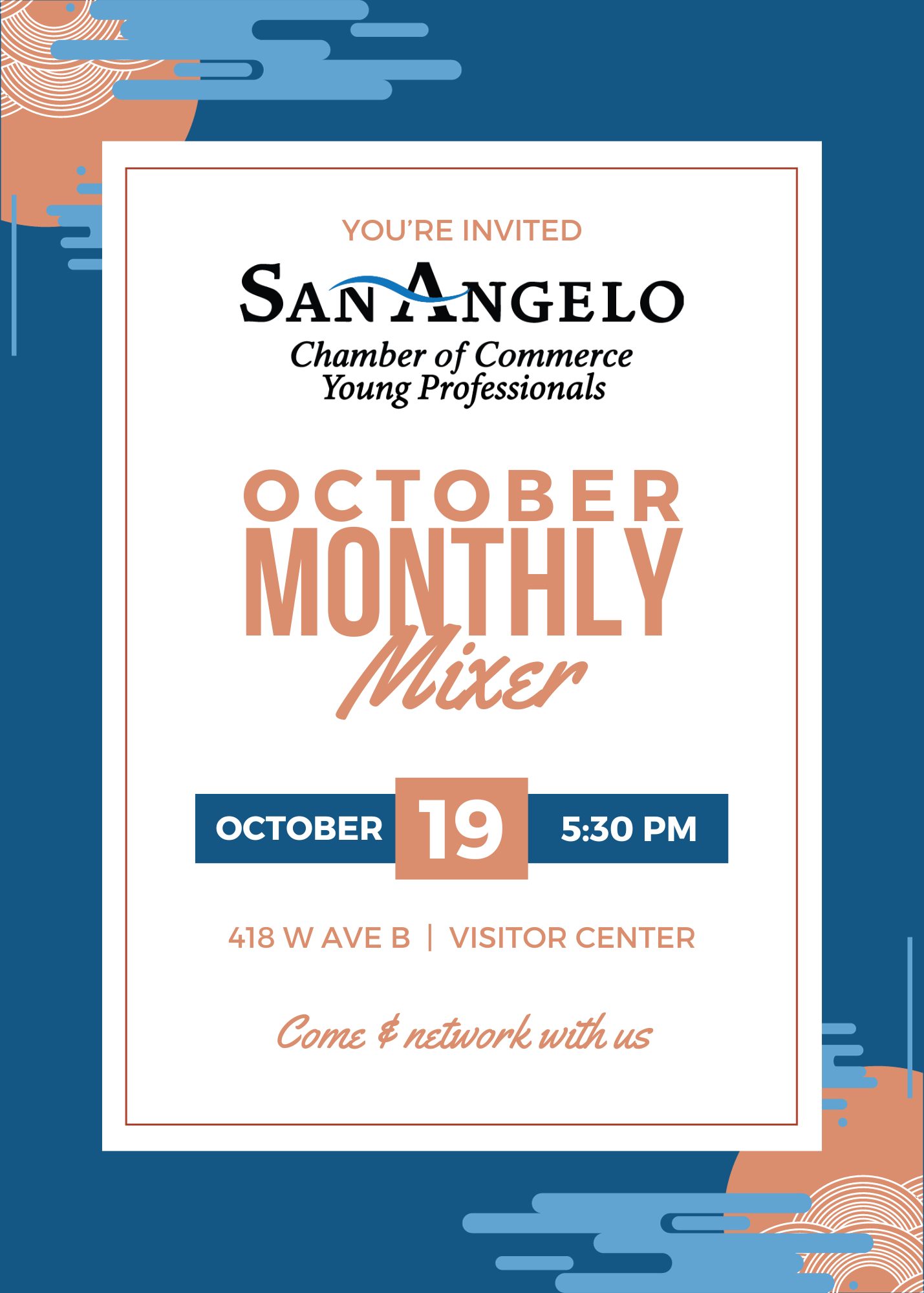 You're invited to the San Angelo Chamber Young Professionals October Mixer!
Thursday, October 19th | 5:30-7pm | San Angelo Visitor Center
Join us for an evening of meaningful connections, engaging conversations and free drinks. All young professionals are welcome, no 'suit and tie' job required!
Permanent Mailing Address:
San Angelo Chamber of Commerce
c/o Young Professionals
418 West Avenue B
San Angelo, TX 76903
For more information, contact: