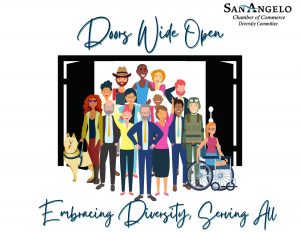 Doors Wide Open is a city-wide campaign sponsored by the Chamber of Commerce Diversity Committee. The Diversity Committee and the Chamber believe when we work together we have the power to change things for the better. Ensuring that customers, patrons and visitors feel welcome in the businesses around the city and encouraging the San Angelo business community to hire and promote with diversity, equity and inclusion in mind are the goals of this campaign.
We would be honored if your business would join us in making sure all of the employees and guests around San Angelo KNOW that they are ALL welcome.
How can you join in?
1.     Pledge - Take the pledge
2.     Form - Fill out your business information
3.     Mail - Receive a Doors Wide Open sticker in the mail
4.     Display - Proudly display your door sticker to let people know you are open to everyone
5.     Spread the Word - Tell your neighbors and friends!
64%
of consumers choose, switch, avoid, or boycott a brand based on its stance on societal issues.
2/3
nearly 2/3rds of millenials and GenZ express a preference for brands that have a point of view and stand for something
33%
of consumers are now choosing to buy from brands they belive are doing social or environmental good.
35%
of Americans think a company's reputation is just as important as the products it makes and have purchased a product more than once because of this reason.