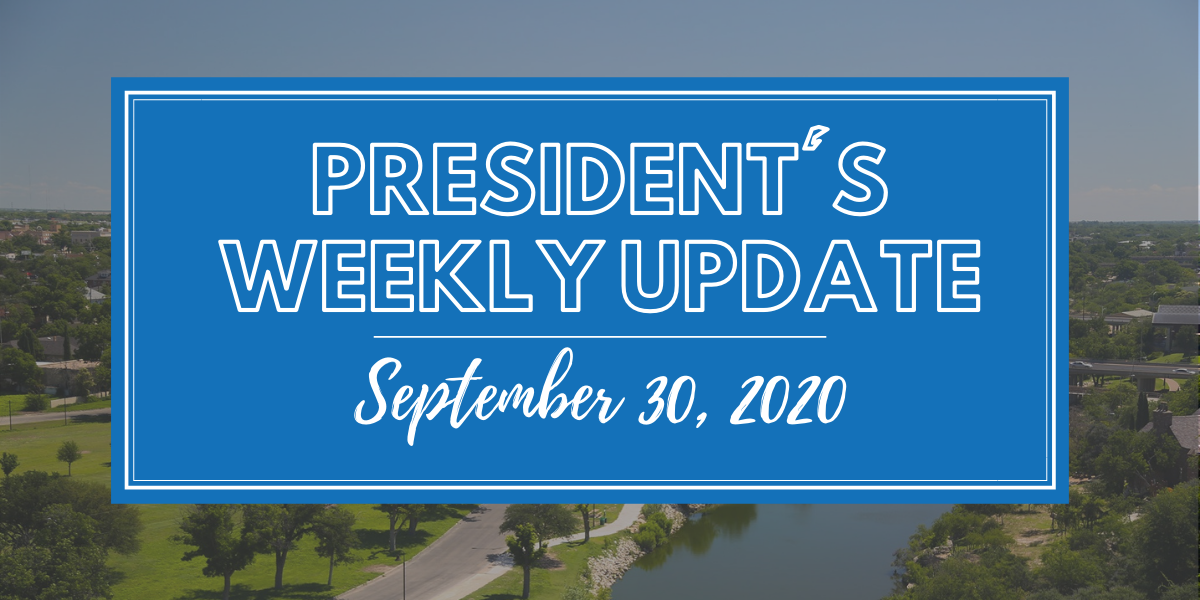 President's Weekly Update: September 30
Members of the San Angelo Chamber of Commerce:
We hope you are having a great week. The political season is upon us and we seem to be seeing more rancor than is typical. I sense that some in our community are growing concerned about the direction that our nation is taking and feeling generally frustrated with the political process. For me, finding gratitude is a great thing. I remind myself that as a nation we have seen challenging times before and have always come through them stronger and better. I am also very encouraged by the fact that in San Angelo, we are incredibly well positioned to be prosperous and successful as a community regardless of the politics at the national level. As I have said many times before… in good times and challenging ones, there is nowhere else in the world that I would rather be than right here in San Angelo.
While the Chamber is always politically neutral, we encourage all our membership to be knowledgeable participants in the selection of our leadership by voting. The window for voter registration is quickly closing and we encourage all who have not registered to do so today. The process quick and easy. A voter registration application must be submitted to the Voter Registrar's office, located at 113 W. Beauregard, San Angelo, Texas 76903 on the first floor of the Edd B. and Frances Frink Keyes Building. The application may be delivered in person, mailed, or delivered by a deputy voter registrar. October 5 is the last day for voter registration in Texas.
We are continuing to be constrained by the current limits on public gatherings and our October luncheon is sold out. If you are interested in attending this event virtually, please let us know and we will see if we can accommodate you. We will continue to actively monitor the regulations regarding public event capacity and will let you all know when we can open things up to greater participation.
With the cooler weather, we want to invite everyone to get outside and to enjoy some exercise and fellowship. We will be holding a golf tournament this fall and we guarantee it will be a great time! The Chamber Classic will be held on November 16 at Bentwood Country Club. Sign up to play individually, or as a team of 4 by clicking here. Sponsorship opportunities are also available and can be found by clicking here, or by contacting Tricia at tricia@sanangelo.org, or by calling us at (325) 655-4136.
We are also excited to announce some changes to our annual Business Expo. With the craziness we have seen in 2020, we decided to take the opportunity to change things up by focusing on our local businesses as they launch into the holiday season. The Chamber Holiday Expo will take place on December 1 at the First Financial Pavilion, with the theme of shopping local for the holidays, along with a totally re-imagined program. We want all our membership to have a great holiday season and this event will be a great way to reconnect with the community during this festive time of the year! To showcase your business as an exhibitor, please click here. To view sponsorship opportunities, please click here, or contact Tricia at tricia@sanangelo.org, or call us at (325) 655-4136.
As always, we ask that you take a moment to like and follow us on Facebook and other social media platforms if you have not already done so. We also ask you to check out our website, www.sanangelo.org for new information, as we are continually providing updates. I have included my email and personal cell phone number below. Please feel free to contact me anytime.
In the meantime, stay safe and keep well. We deeply appreciate you all.
Walt Koenig
President and CEO
San Angelo Chamber of Commerce
walt@sanangelo.org
Personal Cell: (321) 474-1332