Young Professionals of San Angelo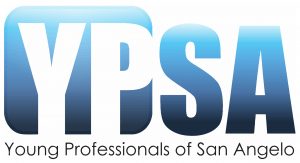 Who are the Young Professionals of San Angelo?
YPSA was founded in 2009, and in 2012 developed a partnership with the San Angelo Chamber of Commerce.  YPSA is now a Chamber of Commerce program, and will be partnering with the Chamber to hold the 20 Under 40 Awards and Banquet. The 20 Under 40 event aims to recognize 20 up and coming leaders in the community who have excelled professionally as well as within the community and personally. Find out more about the 20 Under 40 Awards HERE.
What are the benefits of joining the Young Professionals of San Angelo?
Young Professionals of San Angelo provides career minded individuals with opportunities to develop socially, professionally, and civically. It is our belief that in this day and age people have more options than ever about where they decide to work. We know that San Angelo has to compete for young workers, and feel that if we can provide an active community for young professionals then San Angelo will be a more attractive place for new businesses to start, more graduates to stay, and more businesses to grow.
What are the requirements of joining the Young Professionals of San Angelo?
YPSA is geared toward young professionals under 40 who are looking to network with other linkminded young professionals. To remain a member in good standing, each YPSA member are asked attend a minimum of four functions per year. These functions include events like meetings, mixers, volunteer opportunities, and special events of the Chamber. Interested in joining? You can apply for membership online. Yearly membership is $40 and it covers all YPSA events for an entire year.
Follow YPSA on Facebook for the most up-to-date info!
Pay Annual YPSA Dues
Click the "Buy Now" button below to pay your annual YPSA dues. You will be securely redirected through PayPal to process your payment.
Permanent mailing address:
Young Professionals of San Angelo
c/o San Angelo Chamber of Commerce
418 West Avenue B
San Angelo, TX 76903
For more information, contact:
YPSA Board & Leadership Team