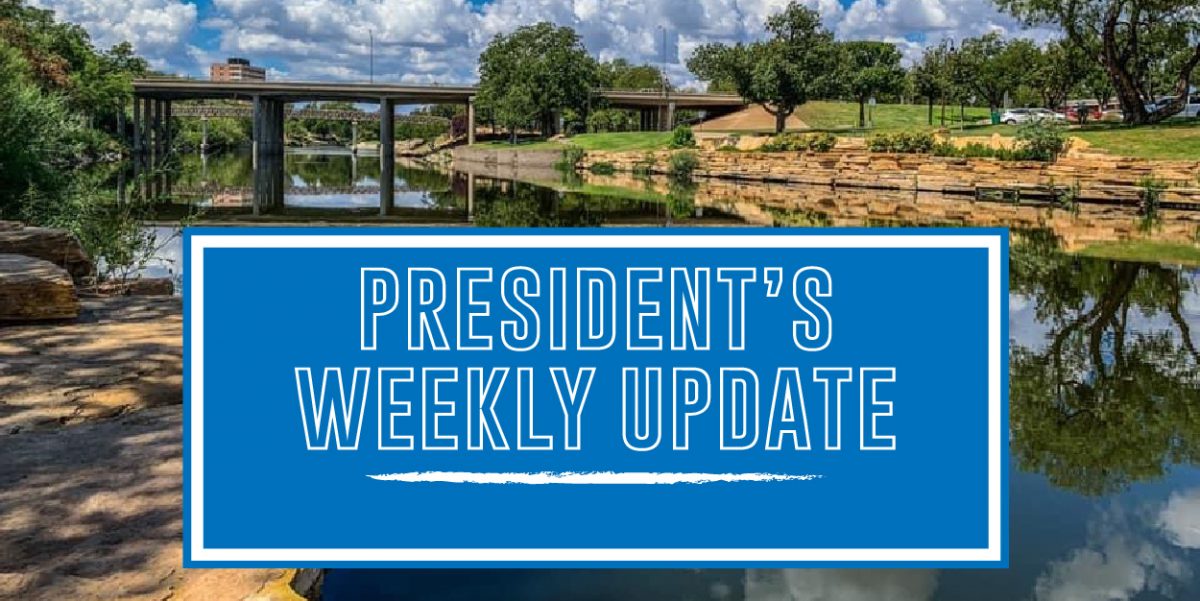 President's Weekly Update: June 2
Members of the San Angelo Chamber of Commerce:
It's a great week to be in San Angelo Texas!  It's a busy time at the Chamber so let me bring you up to speed with what's going on.
Leadership San Angelo is one of the great programs offered by the Chamber and I'm proud to be in this year's class. Despite many challenges this year I believe that everyone made things happen and I personally greatly benefitted from the experience.  I also very much value the friends that I made in the class. I want to give a special shout out to Heather Kumpe and the Leadership San Angelo Alumni Association for their outstanding contribution to our class. This year's Leadership San Angelo Class will be recognized at the June Chamber luncheon, which will be held Tuesday, June 8th at the McNease Convention Center. Be sure to register today!
We are continuing to grow our membership and are quickly closing in on our 1000-member target for 2021. We recently added a new member of the Chamber team. Bailey Yates will be taking over as our Membership Relations Manager. If you know of a business that would like to join our family, let us know and Bailey will be sure to reach out!
On behalf of the Chamber, I want to send a heartfelt thank you to Keep San Angelo Beautiful. This small organization makes a huge difference to our community. The recent hazardous and non-recyclable waste event was a great success with truckloads of chemicals and tires being taken from our community. Over 400 people took advantage of this event.
We are excited to report that the San Angelo Chamber is incorporating the 20 Under 40 program into our calendar of events this year. The 20 Under 40 event recognizes those younger members of our community who are outstanding professionals, leaders and contributors to San Angelo.  We will be opening the nomination process next month, but we want to encourage everyone to start thinking about who they might wish to nominate for this prestigious recognition.
Speaking of events, registration is now open for the 17th Annual West Texas Legislative Summit. The West Texas Legislative Summit is an award-winning event which brings together hundreds of elected officials and business professionals throughout West Texas. This event, typically held in August, provides a forum for West Texas community representatives to spend a day addressing our common legislative priorities. The Summit will be held on August 3 and 4, 2021 with the overarching theme of "Beyond COVID-19". Honorary Co-Hosts- Congressman Pfluger, Senator Perry, and State Representative Darby will address federal issues which directly impact our community's industries. We will be sending out more information once preliminary topics are captured, but you can register now at www.sanangelo.org.
With things returning to normal many of you are thinking of traveling again. I want to remind everyone that our new airline service with United Airlines is now offering twice daily flights to Houston!  Bookings are available now on United.com. Book your travel today!
Finally, we have a great calendar of activities planned so visit our new and improved website at www.sanangelo.org often as we are continually providing updates. On behalf of our incredible Chamber staff and Board of Directors we thank you for your membership and contribution to the success of our community.
Have a great week!
Walt Koenig
President and CEO
San Angelo Chamber of Commerce
walt@sanangelo.org
Personal Cell: (321) 474-1332