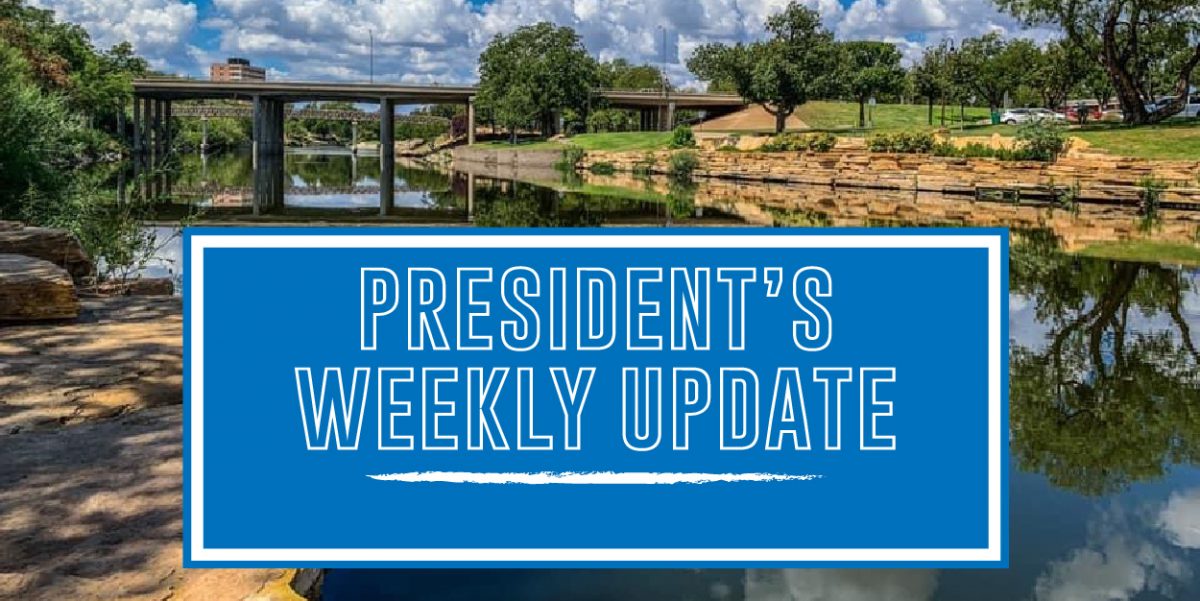 President's Weekly Update: May 19

Members of the San Angelo Chamber of Commerce:
After some much needed and appreciated rain, it's been a great week at the Chamber, and we hope you all are experiencing the same.  There is a lot going on so let me bring you up to speed.   San Angelo keeps winning and we continue to gain national recognition. Yesterday, LinkedIn news ran an article identifying the U. S. localities with the fastest-growing entry-level opportunities in manufacturing, technology and healthcare. San Angelo was identified as one of the four top locations in the USA for those looking to start a career in the medical professions. LinkedIn used their considerable databases to develop these rankings. Kudos to Shannon Health and all our medical providers for putting San Angelo on the map once again!
As a community, we are effectively and steadily dealing with the COVID pandemic. Our numbers remain low, and we are increasingly seeing life return to normal. One area of concern, though, is our COVID vaccination rate. We are continuing to see declining numbers of vaccinations being dispensed on a weekly basis. The decision is certainly a personal one, but we encourage everyone who is over 16 years of age to go "sleeves up" and get vaccinated. You can schedule your appointment here: https://www.sanangelo.org/sleevesupsanangelo/
With things returning to normal, the calendar of community activities is filling up.  According to Diann Bayes, our VP in charge of the Convention and Visitor's Bureau (CVB), over 50 new activities have been added to our community calendar this week alone. The best way to stay up to date with everything that is going on in our community is to check out the CVB website, www.discoversanangelo.com frequently.  Also, if you are hosting a community event that you would like to see included on the calendar let us know at the Chamber and we will make it happen!
We are excited to report that the San Angelo Chamber is incorporating the "20 Under 40" program into our calendar of events this year. The 20 Under 40 event recognizes those younger members of our community who are outstanding professionals, leaders and contributors to San Angelo.  We will be opening the nomination process next month, but we want to encourage everyone to start thinking about who they might wish to nominate for this prestigious recognition.
With things getting back to normal many of you are thinking of traveling again. I want to remind everyone that our new airline service with United Airlines is now offering twice daily flights to Houston!  Bookings are available now on www.united.com  Book your travel today!   Finally, we have a great calendar of activities planned so visit our new and improved website at www.sanangelo.org often as we are continually providing updates. On behalf of our incredible Chamber staff and Board of Directors we thank you for your membership and contribution to the success of our community.
Have a great week!
Walt Koenig President and CEO
San Angelo Chamber of Commerce
walt@sanangelo.org
Personal Cell: (321) 474-1332