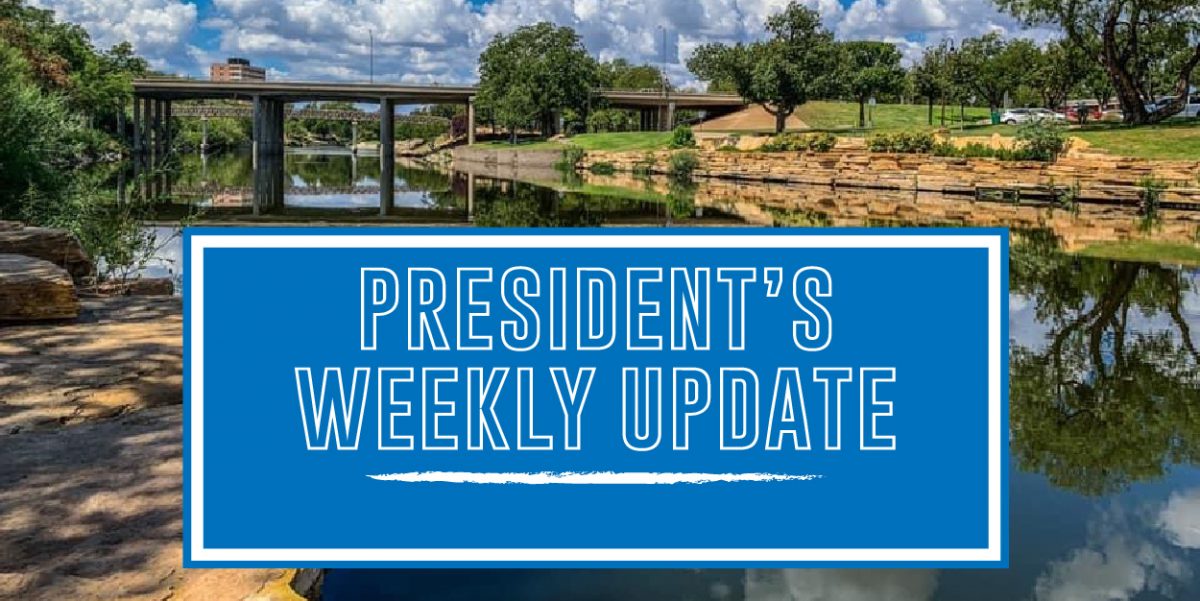 President's Weekly Update: May 12
Members of the San Angelo Chamber of Commerce:
After some time away, we are happy to be back in San Angelo. While it was great to reconnect with our family overseas, our travels abroad reminded us every day that San Angelo is truly a special place to work and live. The freedoms that we value and the strong community spirit that we enjoy are unique in the world. In good times and in times of challenge, there is no where else in the world that we would rather be than San Angelo, Texas.
The Chamber LOVES Angelo State University! Graduation is coming up this weekend with various commencement ceremonies being held on the 14th and 15th of May. We will see lots of Ram Families in our town, so show our support for our great university by proudly displaying the Angelo State flag. If you already have a flag, fly if proudly this weekend…If you need a flag, they are available at the Chamber for FREE. Let's turn San Angelo Blue and Gold for Graduation!
Tomorrow, May 13th, is graduation day for Howard College San Angelo. Attendance will be limited at the Pinning and Graduation ceremonies this year due to COVID safety protocols, but they are streaming all events for those who wish to virtually attend. This link will take you to a webpage with all events listed: https://howardcollege.edu/students/commencement/. Congratulations to all Howard College graduates!
As you may know, we typically host Goodfellow Appreciation Day every year to celebrate our community's appreciation for the service Goodfellow Air Force Base provides. Because we were unable to host our traditional event, we created the Goodfellow Appreciation Day Savings Pass. This pass provides an opportunity for businesses in the community to show their appreciation to our Goodfellow friends by offering military-exclusive specials on Armed Forces Day. I'd like to extend a special 'thank you' to participating businesses who are helping us honor our military. We are very excited about this new format and are hopeful that this might lead to something even greater in the future.
Kudos to Diann Bayes, the leader of our Convention and Visitor's Bureau and her entire team for putting on one of the best Chamber luncheons ever! We learned a great deal about the important role that the travel and tourism play in the San Angelo economy and culture. Well done Diann and team!
Speaking of travel, I want to remind everyone that our new airline service with United Airlines is now offering twice daily flights to Houston! Bookings are available now on www.united.com. We are also pleased to report that American Airline service to Dallas has been expanded to six flights daily. San Angelo is certainly on the move. Book your travel today!
Respecting and celebrating the diversity of our community is one of San Angelo's core values. The Chamber's Diversity Committee is launching a new initiative to provide mentoring to our minority-owned businesses. If you are interested in serving as a mentor or are seeking mentorship, let us know and we will get you involved!
Finally, we have a great calendar of activities planned so visit our new and improved website at www.sanangelo.org often as we are continually providing updates. On behalf of our incredible Chamber staff and Board of Directors, we thank you for your membership and contribution to the success of our community.