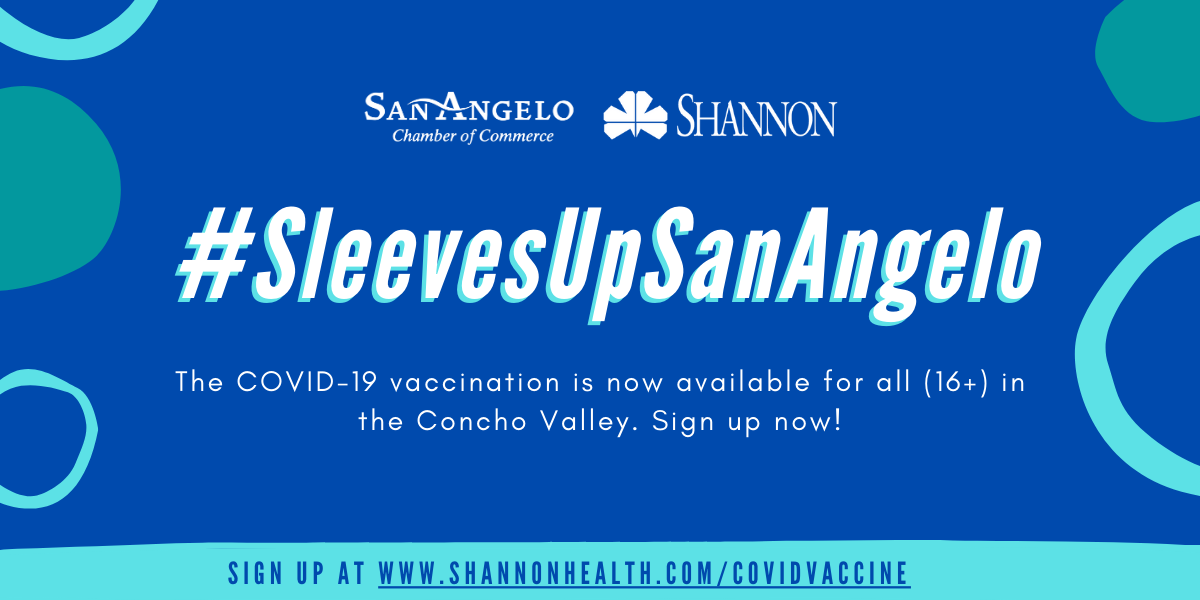 Chamber partners with Shannon for #SleevesUpSanAngelo Vaccination Event
March 18, 2021
Contact: Kayla French
Email: kayla@sanangelo.org
For immediate release
Chamber partners with Shannon for #SleevesUpSanAngelo Vaccination Event
San Angelo, TX – The San Angelo Chamber of Commerce is proud to partner with Shannon for a #SleevesUpSanAngelo Vaccination Event. The COVID-19 vaccination is now available for all (16+) in the Concho Valley!
To encourage our business community to get vaccinated, we're rolling out a focused social media campaign by industry and sector.
Monday, March 22 – Food service (Restaurants, bars, food trucks, etc.)
Tuesday, March 23 – Personal services (Hair and nail salons, massage parlors, tattoo shops, spas, etc.)
Wednesday, March 24 – Hotels, accommodations, and attractions
Thursday, March 25 – Financial services (Banks, credit unions, financial advisors, investment firms, etc.)
Friday, March 26 – Retailers (Boutiques, gifts, clothing, convenience stores, etc.)
Monday, March 29 – Realtors
Tuesday, March 30 – Auto industry
Wednesday, March 31 – Manufacturers
*** If you can't make it on your industry's dedicated day, we encourage you to make an appointment whenever it's convenient for you! ***
 Signing up for an appointment is easy and same day appointments are available! Visit www.shannonhealth.com/covidvaccine/ to schedule your appointment.
Please note all vaccination appointments will take place at the Shannon Clinic location in old Beall's in Sunset Mall.
---- END ----