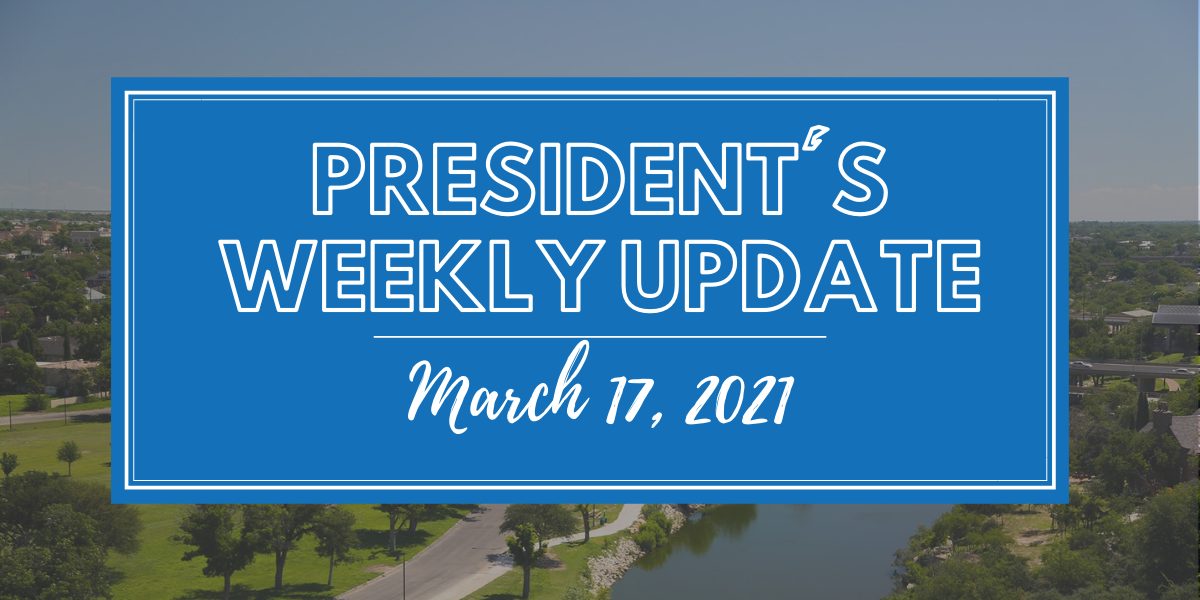 President's Weekly Update: March 17
Members of the San Angelo Chamber of Commerce:
We wish you all a happy and safe Saint Patrick's Day!
Our community continues to respond well to the COVID-19 pandemic, and we are grateful to all who are involved in the distribution of vaccinations. The availability of vaccinations is increasing, and now everyone over the age of 16 is now eligible to receive their COVID-19 vaccine. It's important that we support our continued progress toward ending the pandemic by getting vaccinated when we can. The Chamber is working with the folks at Shannon to reach out to specific categories of businesses to assist in the scheduling of their employees for vaccinations. We are calling this outreach campaign #SleevesUpSanAngelo. The objective is to continue to roll out the vaccinations as quickly as we receive them. Be on the lookout on social media for more information about this campaign in the next few days.
The election season is ramping up and the Chamber will be holding two candidates' forums in April. We have a forum for the mayoral candidates scheduled for April 12, as well as a forum for the city council candidates set for April 14. We are finalizing these dates as well as potential venues. The Chamber is always politically neutral with respect to the candidates, but we certainly support the election process. It's important that everyone who is eligible to vote does so. We will keep you all informed as the plans for the forums are finalized.
We are pleased to announce that we have had ten consecutive months of net membership growth at the Chamber. If you know of a business that isn't yet part of our Chamber family, please let them know that they are most welcome!
We have a great calendar of activities planned so visit our new and improved website at www.sanangelo.org often as we are continually providing updates. We have successfully navigated some very challenging times together as a community. I believe more than ever that in good times and in times of challenge there is nowhere else on the planet that I would rather be than San Angelo, Texas!
We deeply appreciate you all.
Walt Koenig
President and CEO
San Angelo Chamber of Commerce
Personal Cell: (321) 474-1332