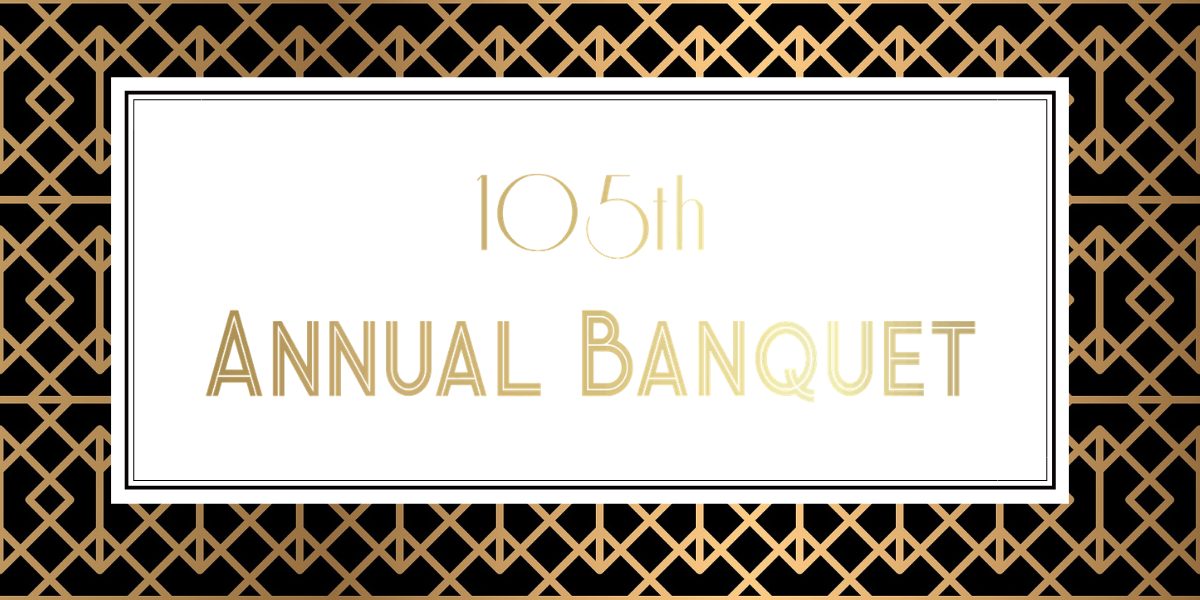 105th Annual Banquet Awardees
The San Angelo Chamber of Commerce hosted its 105th Annual Banquet on March 4, 2021 at the First Financial Pavilion.
Unique to San Angelo, the Chamber's Annual Banquet is a time-honored tradition, celebrating its 105th year in 2021. For decades, the Chamber has been bringing together the business community to honor those who are dedicated to moving forward, promoting progress, and striving for success.
Highlights of the evening include accomplishments of the 2020 Chamber year from Board Chair Dr. Clifton Jones, a preview of 2021 goals from incoming Board Chair Shane Plymell, and recognition of outstanding citizens and volunteers. The grand finale of the evening was the ceremonial naming of the 2020 Citizen of the Year.
Special thank you to Platinum Sponsors: Angelo State University Norris-Vincent College of Business, Black Plumbing, Celebraciones Bellas, Conterra Networks, the City of San Angelo Development Corporation, United Operated by SkyWest Airlines, and Western Audio Works.
Outstanding Member - First Financial Bank
The emergence of the COVID-19 pandemic changed the face of business as we all know it. At the beginning of the pandemic First Financial Bank was one of the first in San Angelo to respond with help for the business community. The key role they played in helped local businesses survive the economic impact of the COVID-19 pandemic lockdown. First Financial Bank was a leader in assisting local businesses to apply for federal assistance available through the Payroll Protection Program. As a result of their efforts, and others, over $100 million in emergency PPP funding flowed into our community, helping to shore up businesses and maintain employees' salaries when they needed it most.
Chris Evatt is the President, CEO and Chairman of First Financial Bank - San Angelo Region. Mr. Evatt received both his BBA in Accounting and MBA in Finance from Tarleton State University. He currently serves the Chamber as a Board member, and as Chair of the Economic Development Advisory Board. In addition, Mr. Evatt serves on the boards of West Texas Rehab, the ASU Ram Club, the ASU Business Advisory Council for the Norris-Vincent College of Business, the Howard College San Angelo Foundation, and San Angelo Industries.
Outstanding Director - Randy Brooks
Following a successful career with Town and Country Food Stores, Randy Brooks is currently an entrepreneur in West Texas through BNB Ventures, which owns and operates the successful chain of Jack's Convenience Stores and Which Wich sandwich shops in our area. Mr. Brooks is an Aggie who served in the Texas A&M Corps of Cadets and then went on to serve our nation in the U.S. Army Reserve. Today, he proudly serves as a member of the Civic Leaders Group in support of Goodfellow AFB.
A new Board member, as well as a new member of the Chamber Board Executive Committee, last year Mr. Brooks willingly stepped forward to serve as the Chair of the President/CEO Search Committee. Chairing this Search Committee involved many hours of meetings and phone calls as the Committee actively reached out to recruit a strong pool of candidates. Throughout it all, he gave his own valuable time and talents to steer the Committee through the process.
Outstanding Chairman - Sherley Spears
In 2020, the Chamber's Diversity Committee expanded on their programming and provided a series of workshops for the multitude of minority-owned small businesses in our community. Sherley Spears led the Diversity Committee to great success this past year.
Originally from Fort Worth, Ms. Spears retired after 30 years as a telecommunications manager with many years in leadership at Southwestern Bell and GTE. Today she is a local business owner of an independent real estate brokerage firm, editor of a community newspaper which serves Abilene and the San Angelo area, and owner of a history development company that focuses on the history of Black people in the western part of Texas. Ms. Spears serves on many local boards including the San Angelo Chamber of Commerce, Institute of Cognitive Development, Fort Concho Museum and is now serving her second term as President of the San Angelo chapter of the NAACP.
Ms. Spears is very passionate about improving the lives of Black and minorities by working to create additional opportunities in business. She has been working with the Diversity Committee of the Chamber for more than 5 years and has helped find wonderful speakers for the Chamber's annual diversity luncheon. Most recently, she worked with the African American Business Coalition to provide Chamber members and other minority-owned businesses in our community with training for Disadvantaged Business Enterprise (DBE), support for PPP loans for non-traditional financial institutions and training programs promoting how to start a business. She also provided the impetus for the Chamber's resolution last year promoting efforts in support of increasing Diversity, Inclusion and Equity among businesses in the San Angelo area.
Innovation Award - Senor Changs
In 2018, Adrian Soto transitioned his popular food truck, Senor Changs, to a successful brick and mortar restaurant. Since then, Senor Changs has become a San Angelo staple and crowd favorite. Senor Changs has not only grown to have two locations but was also one of the most innovative businesses during the early days of the COVID-19 pandemic.
As an early response to the problems caused by the pandemic, Adrian and his team began running an online grocery store - known as Changs Grocer - to assist those in the community who were experiencing shortages for essential household groceries and supplies. Senor Changs closed their dining room and converted it into a hub for their grocery pick-up and delivery service. The impact of Changs Grocer was beneficial for many individuals - community members were able to purchase groceries and household goods, such as toilet paper, that were in short supply elsewhere, employees at Senor Changs were ensured job stability during a tumultuous time, and additional community members who were unemployed or furloughed were hired on as part of the Senor Changs team.
The ingenuity and innovation of Senor Changs didn't stop at grocery delivery. During the pandemic while entertainment and music venues were closed, the Senor Changs team hosted Pull-Up Dance Parties, where community members could enjoy live music from their cars while remaining safely socially distanced.
Chairman's Award - COVID-19 Economic Resources Task Force
This year's Chairman's Award was presented to the organizations that came together and designed a comprehensive, community-based response to the impact of the COVID-19 pandemic on local small businesses. On March 18, 2020 economic development partners in the Concho Valley formed the Economic Response and Recovery Task Force, led by Michael Looney (Vice President of Economic Development at the San Angelo Chamber of Commerce), Dave Erickson (Director at the ASU Small Business Development Center), and Guy Andrews (Director of Economic Development at the City of San Angelo Development Corporation). The Task Force's mission was to provide a forum for sharing relevant information on the rapidly changing economic situation and collaborating on an innovative set of solutions.
Each member of the Task Force brought their own unique perspectives, experience, skills, and resources to bear on the crisis. Their combined efforts ensured that our business community was able to take full advantage of millions of dollars in COVID-related federal aid for small businesses. The Task Force's innovative approach to providing regular, well-informed COVID-19 assistance to local businesses was incredibly successful and led to the receipt of well over $150 million in emergency federal funding by businesses in our area.
This Task Force was so successful that chambers of commerce from across Texas reached out to the Chamber to learn more about the initiative and sought to duplicate the Task Force's responses in their own community.
Special Recognition Award - West Texas Moving Forward Conference
Each year the Chamber, along with a planning committee, organizes and hosts the West Texas Legislative Summit (WTLS) , one of the largest gatherings of elected leaders and industry professionals in West Texas. As 2020 began, this team started their usual planning for the next Summit event in August. However, with the sudden shutdowns caused by the COVID-19 pandemic, and the lingering uncertainty as to how long the shutdowns would last, planning for another Summit event became much more difficult. Before long, it became clear that it would be impossible to host another Summit in the style of previous years, with lots of networking and many attendees.
As the weeks passed, it seemed the Chamber had no choice but to cancel the Summit for 2020 and hope that we the tradition could resume in 2021. However, this team really began to consider ways in which the Chamber could still host a policy-oriented conference in 2020 which focused on economic issues facing West Texas. Due to their hard work and innovative thinking, the West Texas Moving Forward Conference was created. The Conference was a huge success, despite the stringent COVID-19 restrictions they faced. This event really showcased just how it was possible to move forward despite those restrictions, and to offer a high quality, hybrid conference, with equal parts of in-person activities and virtual panels.
The West Texas Moving Forward team was led by the dynamic trio of Tricia Peterson, Events Director for the Chamber, Dr. Brook Dickison, Assistant Professor in the Department of Curriculum and Instruction at ASU, and Kayla French, Communications Director for the Chamber.
Special Merit Award - Diann Bayes and the San Angelo Convention & Visitors Bureau
Diann Bayes and her team in the San Angelo Convention & Visitors Bureau (CVB) helped to keep San Angelo moving forward during 2020, even if none of us could have foreseen what 2020 would bring. In the face of constantly changing circumstances, Diann led her team through a year where travel and tourism were shut down, hotels were suffering, and the entertainment industry was crippled. As a team they moved forward in the face of unprecedented difficulties due to COVID-19 shifting their focus from destination marketing to local PR efforts to remind and reassure local tourism-based businesses that the CVB is still there for them during these unprecedented times.
Amid all that happened in 2020 they still managed to secure the designation of #1 True Western Town of the year by True West Magazine. Diann and her team worked diligently to be a good steward of the funds entrusted to her division and were able to slash the budget, avoid layoffs and come in $200K under budget with the plan of using those funds for marketing in 2021. Diann and her team kept an upbeat attitude and worked hard to satisfy their mission of letting people know that San Angelo is truly an oasis in West Texas.
Phil Neighbors Spirit of San Angelo Award - Jamie Rainey
This award is given to someone who helps to make our community a better place to live. It is named for the late Phil Neighbors, who served this city as the Chamber President and CEO for 10 years with distinction and dedication.
Phil was a gentle soul, who loved our city and worked tirelessly to serve Chamber members and advance the Chamber's mission. He was a man of strong faith, and always had a warm smile and firm handshake for both friends and strangers alike.
This year's award recipient is someone who has also served our community for many years – Ms. Jamie Rainey!
Jamie has been a resident of San Angelo for over 50 years and is a proud graduate of Angelo State University. She has served the San Angelo community in many different capacities over the years, including a 4-year stint as City Councilwoman from SMD 1. She has served on numerous local boards, including the Concho Valley Workforce Development Board, Meals for the Elderly, United Way of the Concho Valley, and West Texas Rehab Center. In addition, she has served the Chamber as Board Chair, and as a member of the Economic Development Council. In her most recent role, she was the Workforce and Community Development Officer at Howard College for the past 13 years; in this role she was an ex-officio member of the Chamber Board.
As San Angelo's housing shortage worsened in recent years, Jamie collaborated with the Home Builders Association of San Angelo to develop an innovative new program in construction trades at Howard College. This new program provides students with hands on instruction in the basics of the various construction skills that are needed in residential construction, including foundation, framing, roofing, drywall, window and door installation, and interior trim. The first class from this program graduated in December 2019, just a little over one year ago. By providing opportunities for residents to be trained in these construction trades, local contractors are better able to hire enough skilled workers to complete their projects in a timely manner.
Jamie also worked tirelessly with local community leaders to put together a new, accelerated nursing program at Howard College so that local nurses who already hold the LVN certification could quickly move up to an RN degree as a registered nurse. Jamie went to Austin to testify before the Texas Board of Nursing about the need for this program, accompanied by several local community leaders. Jamie also coordinated initial funding for the program from the City of San Angelo Development Corporation, the Workforce Development Board, Shannon, and San Angelo Community Medical Center. This important program was approved by the State of Texas in 2016 and helps to alleviate the shortage of qualified RNs in the San Angelo health care community.
2020 Citizen of the Year - Matt Lewis
The Citizen of the Year is selected each year by a committee of past Citizen of the Year (COY) recipients. The deliberation and selection process behind the COY honor is highly respected and is privy only to previous COY recipients and revealed to the public at the Chamber's Annual Banquet.
Each year a committee of previous COY recipients meet to deliberate on and choose the next COY. Qualities of a COY, as defined by previous recipients include an individual or group who has contributed significantly to the quality of life in the community and who has been involved in quality and effective volunteer work. A COY will also exhibit the leadership needed to achieve success for all in San Angelo and passionately pursues the best for this community.
The 2020 Citizen of the Year is Matt Lewis!
Matt Lewis was born in the Dallas area, where he lived until he was 5 years old when his parents moved the family to Brownwood. Mr. Lewis comes from a musically inclined family and grew up singing with them at church on a regular basis. A step stool was used in his early years so he could reach the pulpit and stand alongside his siblings. His first stage appearance was in a performance of Amahl and the Night Visitors, where he was cast as the lead role of Amahl. After this performance, Mr. Lewis realized his love of the theatre and never looked back.
Mr. Lewis graduated from Brownwood High School in 1980, where he received numerous accomplishments and was involved in several extracurricular activities including:
- Receiving the Architectural Drafting Award
- Being cast in the role of Old and Young Joe in the production of Damn Yankees
- Performing in the All-State Choir as 2nd Chair and 2nd Tenor
- Playing football before sustaining an injury that forced him out of the sport, then taking on the role of a Football Manager
- Mr. Lewis then attended Howard Payne University with a focus on art and music and a minor in accounting.
In 1982 Mr. Lewis began working as a meter reader, then later a lineman, at the Texas Power & Light Company, working his way into management at TXU Energy until 2002.
Mr. Lewis and his wife, Charlotte got married in 1995. The couple have four children – Lauren, Abigail, Luke, and Samantha. The family moved to San Angelo in December 1997.
In 2002, the San Angelo Area Foundation hosted a nationwide search for their next President/CEO. Mr. Lewis applied and interviewed for the position, his love for San Angelo evident.
The San Angelo Area Foundation was established in 2002 with a $1M grant from the San Angelo Health Foundation. As of 2020, more than 7,000 donors have contributed over $200M dollars since inception and have created more than 330 funds. Over $100M have been awarded in grants and the Foundation has over $150M in assets, all supporting a wide array of causes in San Angelo and the surrounding area.
Mr. Lewis and the Foundation directed and raised funds for the Stephens Central Library and the San Angelo Performing Arts Center (SAPAC). With Mr. Lewis's leadership, the Foundation was able to apply for a $1M grant for each project. His love for the theatre as one of the driving forces of the SAPAC project, Mr. Lewis helped to acquire the 44,000 square foot Coca-Cola bottling plant building for the campus.
Mr. and Mrs. Lewis are both active in the performing arts community in San Angelo. They were both in the Dallas Symphony Chorus prior to moving to San Angelo. The couple have performed in a multitude of local productions and musicals and are longtime members of the San Angelo Chamber Singers. Mr. and Mrs. Lewis received Angelo Civic Theatre's Legacy Award in 2011. Mr. Lewis has made and served on many Walks to Emmaus as part of the music team.
A man who keeps confidentiality close to his vest, and is intentional with his communication, Mr. Lewis's impact can be seen and felt across San Angelo and the Concho Valley. With the priorities of God, his family, and his work, his contributions and leadership over the past 19 years are immeasurable.
Congratulations to Mr. Matt Lewis, the 2020 Citizen of the Year!