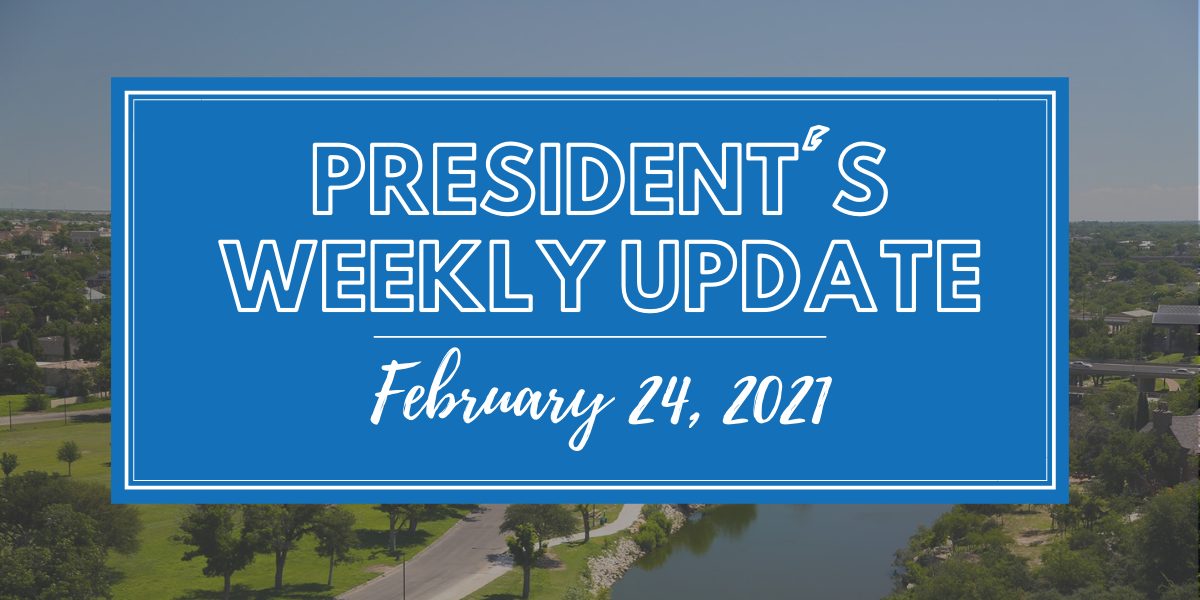 President's Weekly Update: February 24
Members of the San Angelo Chamber of Commerce:
Spring has returned and, as a community we are back at it!  On behalf of the entire Chamber family, I want to thank all of those who worked tirelessly and under severe conditions to restore our essential services. A deep freeze, lasting for days, that resulted in the loss of both power and water services is certainly unprecedented. During the crises we were in regular contact with City leadership and understand firsthand the level of dedication and sacrifice that was freely offered by so many. Thank you all for being there for us.
We also owe a great debt of gratitude to our medical community who has been working tirelessly to not only lead us through the COVID-19 pandemic, but also to cope in recent days with the lack of utilities in our various hospitals and clinics. Keeping the medical services flowing during these challenging circumstances was nothing short of miraculous. As a community, we are blessed to have such a strong, dedicated, and competent set of medical professionals. We also thank you all for being there for us.
We continue to win on the COVID-19 front. This week we saw downward trends in all key metrics including positivity rate, active cases, and hospitalizations. The roll out of the vaccinations is proceeding very efficiently. Our community is now designated GREEN from a COVID-19 standpoint. We are in the final phases of the pandemic and complacency is our enemy at this point… let us continue to keep doing what we have been doing to Keep San Angelo Strong.
Today is the LAST day to purchase tickets to our 105th Annual Banquet. This event is a fantastic opportunity to get together and to have a great time! We will also be honoring many community members, including Citizen of the Year, who were instrumental in leading us through the challenging times that we faced in 2020. Tickets are available on www.sanangelo.org so get yours now!!
The diversity of our community is one of the things that makes San Angelo special. Your Chamber is committed to serving all our wonderfully diverse communities. We are currently building the Chamber's Diversity Committee, so if you want to make a positive difference toward guiding our diversity program, we invite you to join us and to serve. Contact Heather Kumpe or myself at the Chamber offices for more details.
We are pleased to announce that we have had nine consecutive months of net membership growth at the chamber. If you know of a business that isn't yet part of our Chamber family, please let them know that they are most welcome!
Our Business @ Happy Hour event of 2021 was a great success! We had a great time seeing everyone and we really appreciate our host, the Concho Valley Food Bank, as well as our food and beverage caterers Chartwell's and A-B Distributing.
We have successfully navigated some very challenging times together as a community. I believe more than ever that in good times and in times of challenge there is nowhere else on the planet that I would rather be than San Angelo, Texas!
Stay safe and keep well. We deeply appreciate you all.
Walt Koenig
President and CEO
San Angelo Chamber of Commerce
Personal Cell: (321) 474-1332