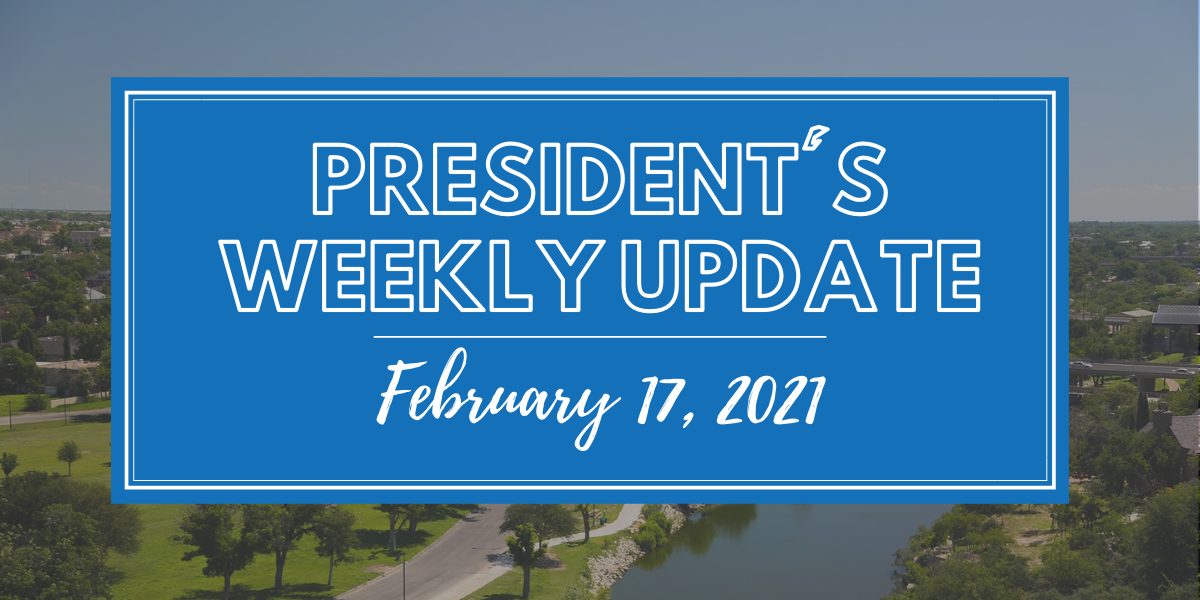 President's Weekly Update: February 17
Members of the San Angelo Chamber of Commerce:
In the face of unprecedented events, we continue to pull together and support each other. We are grateful to our city leadership, the city staff, and all of those who have worked tirelessly over recent days to battle the elements and to restore our essential services. The grit, determination and professionalism shown by these brave individuals is an inspiration to us all. Thank you.
We also owe a great debt of gratitude to our medical community who has been working tirelessly to lead us through the COVID-19 pandemic. We are once again seeing a downward trend in all key metrics including positivity rate, active cases, and hospitalizations. The testing regime continues to produce results quickly and the roll out of the vaccinations is proceeding very efficiently. Our community is now designated green from a COVID-19 standpoint. Thank you to all in the medical field for making this happen.
The lack of electricity is one of our most acute issues and we are asking for your help. To hasten our recovery, we need to dramatically reduce our electricity consumption. To those of you who have business locations, we respectfully request that you limit your illuminated signage as well as your interior and exterior lighting. We also request that everyone do all they can to cut their consumption of electricity. A special shout out to Sam's Club for the extraordinary effort they are making to conserve electricity! In a few days, this will be all over. By pulling together, we will get better faster.
Owing to current circumstances, we will be extending the deadline for ticket sales for our 105th Annual Banquet to Wednesday, February 24. We could all use a great evening of fun celebrating the business community in San Angelo. We invite you to join us. Tickets are available at www.sanangelo.org so be sure to purchase yours today!
We are working our way through a challenging time together. I still wholeheartedly maintain that in good times and in times of challenge there is nowhere else on the planet that I would rather be than San Angelo, Texas! A bright future is ahead of us. Next week spring returns. Stay warm and stay safe!
Walt Koenig
President and CEO
San Angelo Chamber of Commerce
Personal Cell: (321) 474-1332