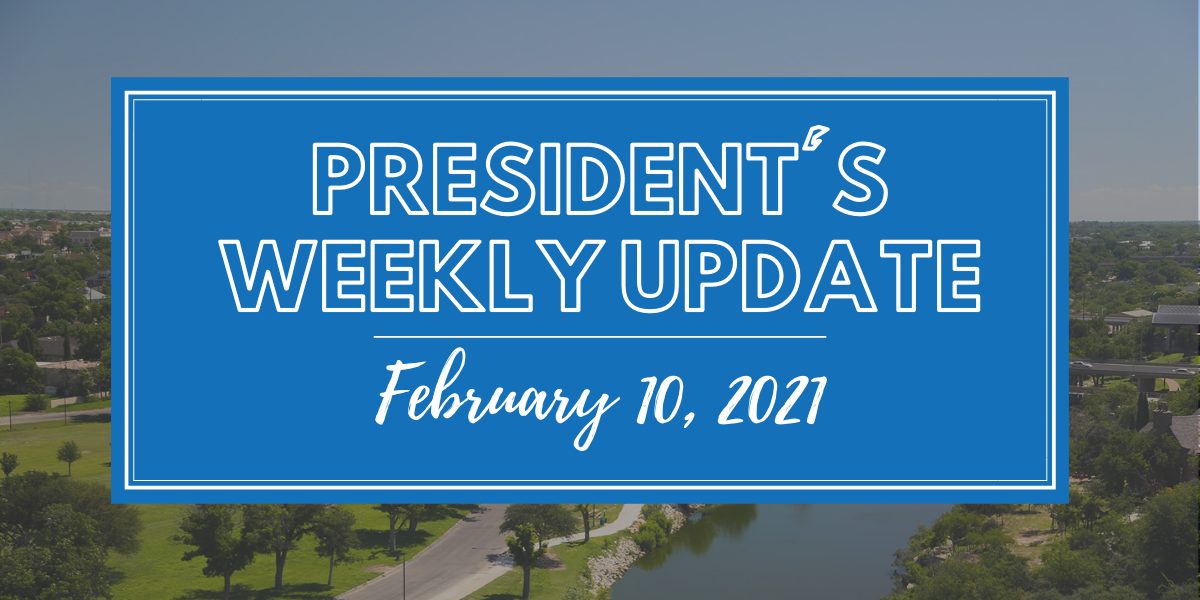 President's Weekly Update: February 10
Members of the San Angelo Chamber of Commerce:
Challenges met together build strong communities. We are facing some challenges together and we will emerge from these much stronger and unified. The water issues in our town have put a strain on our personal lives and on many of our businesses. Now is the time to pull together. We want to express our appreciation to all our city officials and those who work with the water utilities who are tirelessly working to identify issues and to restore full service. Thank you for the great effort.
On a very positive note, this week we saw continued progress in our fight against the COVID-19 pandemic in San Angelo. We are continuing to see a downward trend in all key metrics including positivity rate, active cases, and hospitalizations. The testing regime continues to produce results quickly, and the roll out of the vaccinations is proceeding very efficiently. Our continued work to adhere to the CDC guidelines and to observe local regulations is paying off. If we continue to work together, we will get through this final phase of the pandemic. We are near the end, so let's continue to do what we have been doing.
The water issues in our city necessitated the postponement of our February Membership Luncheon and I'm pleased to tell you all that we have rescheduled this event for next Tuesday, February 16 at Bentwood Country Club. We will feature an update from Goodfellow Air Force Base. All will be the same, only a week later! If you need to update your attendee status and information for this new date you will be able to do so through the link provided in your original confirmation email. We look forward to seeing you all there!
We are pleased to continue to roll out a new membership service - the San Angelo Chamber of Commerce Info Hub! The Info Hub will be your landing page for all things Chamber - membership and contact management, billing and finance, event registration, advertising, and so much more. We are pleased to see that many are taking advantage by registering for the new service. If you haven't done so already, please do so today by emailing communications@sanangelo.org. We are always here to assist you all through this process so please reach out should you need any support!
The planning for our 105th Annual Banquet is in full swing. The event is scheduled to take place on Thursday, March 4 at the First Financial Pavilion. Sponsorship opportunities are still open and sponsorship levels can be viewed by clicking here. Be sure to purchase your tickets here before Thursday, February 18. With a roaring twenties theme, this year's Annual Banquet will be better than ever. Capacity will be limited so get your tickets early!
We warmly welcome all who have recently joined our Chamber family. We look forward to continuing getting to know you and your businesses. We encourage all of our membership to attend a Membership Orientation session. Even if you are a longtime member, we are constantly adding new programs and services so it's important to stay informed so you can take fullest advantage of all your Chamber member benefits. If you know of a business that is interested in joining our outstanding Chamber family, please let us know and we will reach out.
We have been through a challenging time together. We are nearing the end of this pandemic, the water is coming back on and will come out of all of this better and stronger than ever. 2021 is going to be an awesome year!
Stay safe and keep well. We deeply appreciate you all.
Walt Koenig
President and CEO
San Angelo Chamber of Commerce
Personal Cell: (321) 474-1332