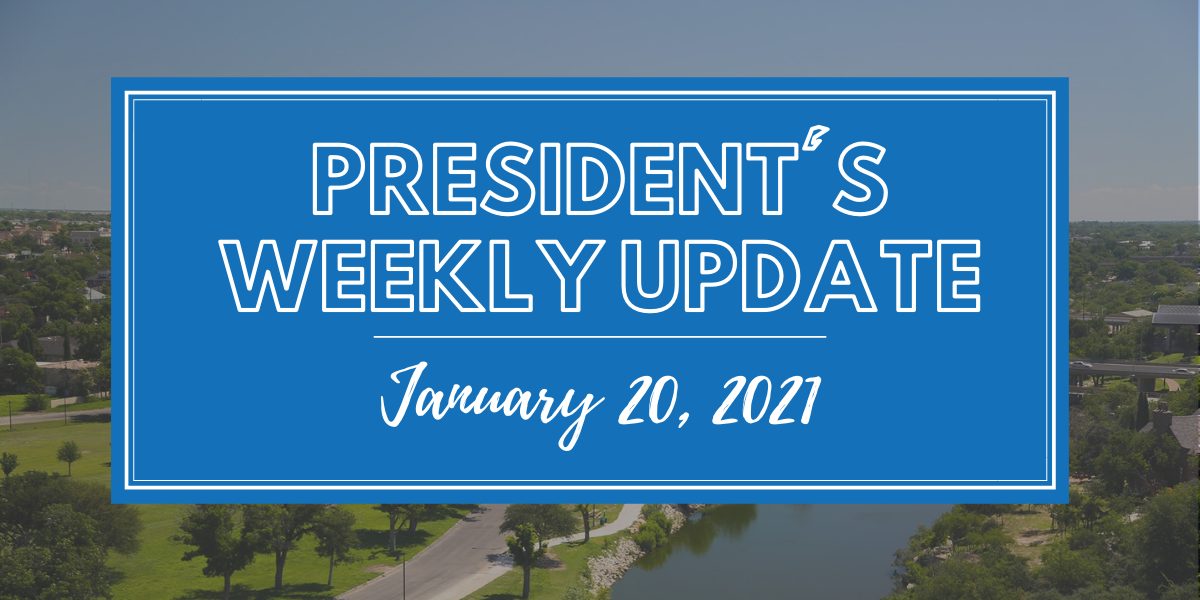 President's Weekly Update: January 20
Members of the San Angelo Chamber of Commerce:
I hope you all are managing to stay dry as we enjoy the much-needed rain.
San Angelo's winning streak continues, and things are looking brighter than ever on the economic front. For those of you who haven't heard, San Angelo will be served by an additional airline, SkyWest Airlines, with Houston as the destination. Over 50% of San Angelo's air travel is currently leaking to other airports. This new service will help to stem the flow and keep this revenue in our local economy.
The service is set to commence in the April time frame. Twice daily flights of 50 passenger aircraft are currently planned. The addition of SkyWest Airlines to our business community will catalyze business, provide much needed options to our local consumers, and drive tourism to our community.
Speaking of tourism, the hotel numbers for 2020 are in and they reflect more good news. In terms of occupancy, revenue per available room and average daily rates, we are leading the region. While we are off from our record setting numbers in 2019, we were in line with the numbers we showed in 2017. We are expecting a strong rebound in 2021 and beyond. The additional air transportation capacity will help to make these expectations a reality.
Our January luncheon held this week was a great success. The topic was The Future of Housing in San Angelo, and we learned about the great economic potential this industry will bring to our community. The growing demand for housing in San Angelo is motivating a strong increase in newly planned housing projects and developments. New construction creates both employment and the drives local consumption of construction related materials. We see these trends as being strong and sustainable for many years to come.
Rounding out our economic picture, we are seeing an upsurge of interest in alternative energy projects, and the construction of our new multi-modal rail port is moving ahead briskly. The pipeline of new economic development projects in agribusiness, manufacturing and logistics is large and growing. Its clear that San Angelo is going to be very popular in 2021.
We are pleased to continue to roll out a new membership service - the San Angelo Chamber of Commerce Info Hub! The Info Hub will be your landing page for all things Chamber - membership and contact management, billing and finance, event registration, advertising, and so much more. We are pleased to see that many are taking advantage by registering for the new service. If you haven't done so already, please do so today by emailing communications@sanangelo.org. We are always here to assist you all through this process so please reach out should you need any support!
This year we have a full calendar of events and services for our community, conducted in full compliance with CDC guidelines and in consistency with our local rules and regulations. The planning for our Annual Banquet is in full swing. The event is scheduled to take place on Thursday, March 4 at the First Financial Pavilion. Sponsorship opportunities are still open and sponsorship levels can be viewed by clicking here. Be sure to purchase your tickets here before Thursday, February 18. This year's Annual Banquet will be better than ever. Capacity will be limited so get your tickets early!
Finally, our community continues to work together to control the COVID-19 virus. Our numbers remain relatively stable and the rollout of the vaccinations continues. We are grateful to our city leadership as well as the leadership of our local medical community for keeping us on the track to full recovery. Let's all do our part by continuing to mask up, socially distance and frequently washing our hands. We are in the final stretch of this thing… lets finish San Angelo Strong!
Stay safe and keep well. We deeply appreciate you all.
Walt Koenig
President and CEO
San Angelo Chamber of Commerce
Personal Cell: (321) 474-1332